What makes Katsuyama sake special?
Katsuyama brews sake that lets you experience clean, clear umami.
While umami is often translated into English as "savory taste" ordeliciousness," these words do not
capture the real meaning. Umami has long been used to describe the most basic concept of Japanese cuisine,
but only recently has it become recognized as a flavor element in the West.
The quality of umami is known to have a major influence on Japanese food.
Because umami is something that exists also in Western cuisine,
it has now become acknowledged all over the world as the "fifth taste" alongside sweet, sour, bitter, and salty.
Sake with excellent umami not only goes well with
Japanese food but harmonizes wonderfully with
all kinds of cooking; what's more,
it provides a different kind of taste experience
than when the same food is enjoyed with wine.
But for beautifully clean and pure sake, there is
nothing like Katsuyama.
You, too, can experience the joyful pleasure of
discovering the new taste and harmony with food
of Katsuyama sake, with the high quality of its umami.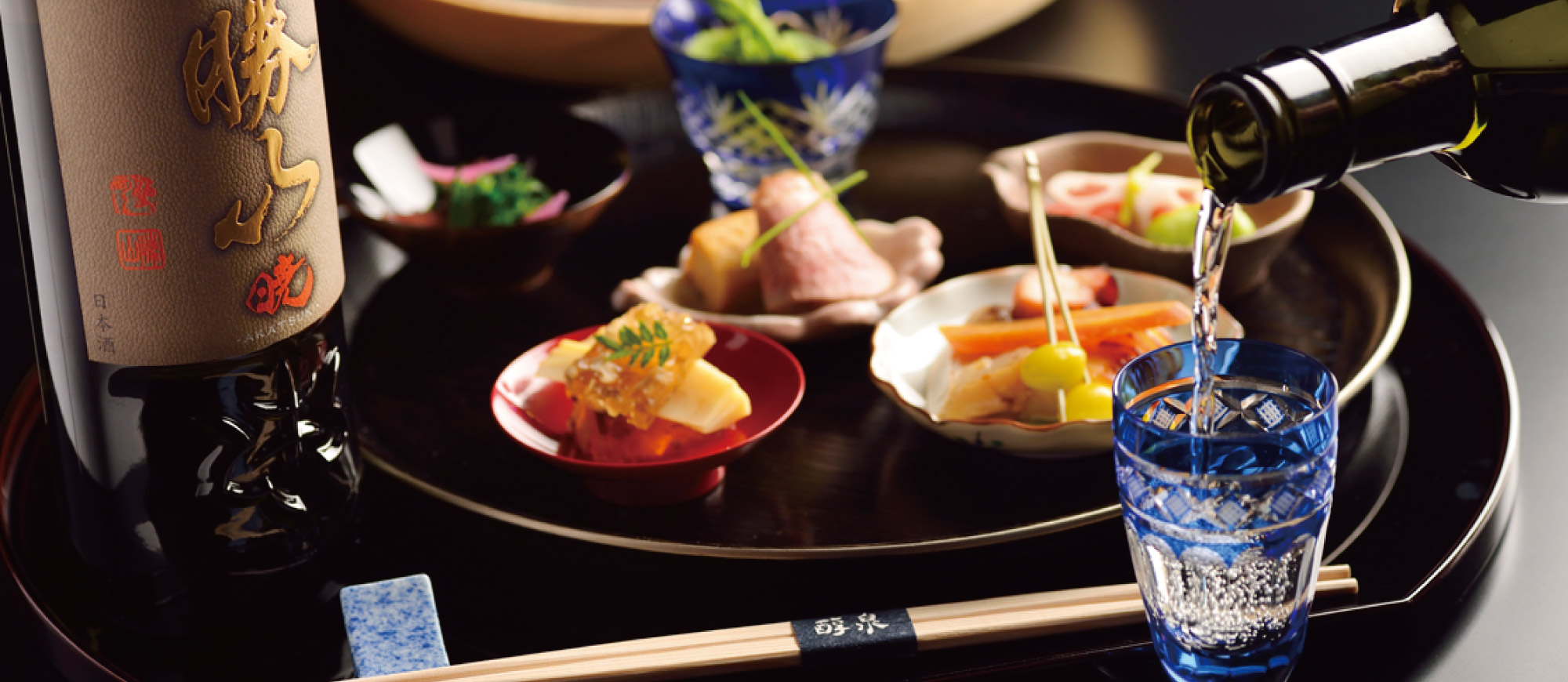 History and features of Katsuyama sake
Established in 1688, Katsuyama is a sake brewery with a tradition of well over three centuries.
It was created to brew the top-class sake enjoyed exclusively by the feudal lords of the
Sendai Domain, founded by Japan's most famous military commander and respected
samurai, Date Masamune, and one of the three major fiefdoms of the era.
To this day, Katsuyama carries on the reputation and tradition of its origins as a brewery for the lords.
Brewing only junmai-shu,the true mainstream sake, it is also the pioneer in creating sake
with clean umami that goes well with any cuisine, a trend that is starting to take hold in the world of sake.
It is the only brewery in Japan to adopt the most luxurious and meticulous brewing method, producing only one tank per week and only the highest class of sake.
The name Katsuyama literally means "Mt. Victoria."
The word katsu means victory, or outstanding excellence, while yama (mountain) indicates greatness, or a large immovable presence, making it a highly auspicious name.
How to enjoy Katsuyama sake
Katsuyama sakes are best chilled ahead of time and drunk in a wine glass.
The greatness of Katsuyama sake cannot be appreciated adequately in ordinary sake cups.
If no wine glass is available, choose a tall, wide glass with thin rim, and fill it about one-third full.
Pour a little at a time so that the temperature does not become too warm while drinking.
Introducing Katsuyama sake
Katsuyama sake Feature chart